Smart City Institute Japan (SCI-Japan) has cooperated with the TV program "Japan's Smart Cities Initiatives" by CNBC Asia "Channel Japan" on the Pan-Asia economic channel.

This program will report on Japan's smart cities initiatives for well-being with a "human-centered", citizen participation and public-private-academic co-creation business model and supporting ASEAN smart city development.

In this program, Takehiko Nagumo, Executive Managing Director, SCI-Japan will talk about the features of Japan's smart cities and proposals for smart city leaders in Asia.

Prior to the broadcast on Channel Japan, its Japanese archive will be distributed online on NIKKEI Channel, which is NIKKEI's video portal website on Thursday, March 10.

We hope that SCI-Japan partners in the world will take a look at this program as a reference for future partnership with Japan and ASEAN countries.

〈Broadcasting station〉
 CNBC Asia "Channel JAPAN" Project Japan
 NIKKEI CNBC is a national cable TV station, J:COM, SKY PerfectTV!
 For details, please see the Nikkei CNBC website.
 https://www.nikkei-cnbc.co.jp/

〈Time〉Approximately 14 minutes and 30 seconds for the entire program

〈Program subtitle〉
 "Japan's Smart Cities Initiatives"

〈Broadcast schedule〉
 Saturday, March 19, 2022 from 10:00 am (Singapore Time)
 Sunday, March 20, 2022 from 7:00 pm (Singapore Time)
 ※Broadcast on March 20 is available for viewing on CNBC Asia

〈Channel Japan Official YouTube Site〉
 After the broadcast, the archive video will be delivered.
 https://www.youtube.com/c/ChannelJAPANbyNikkei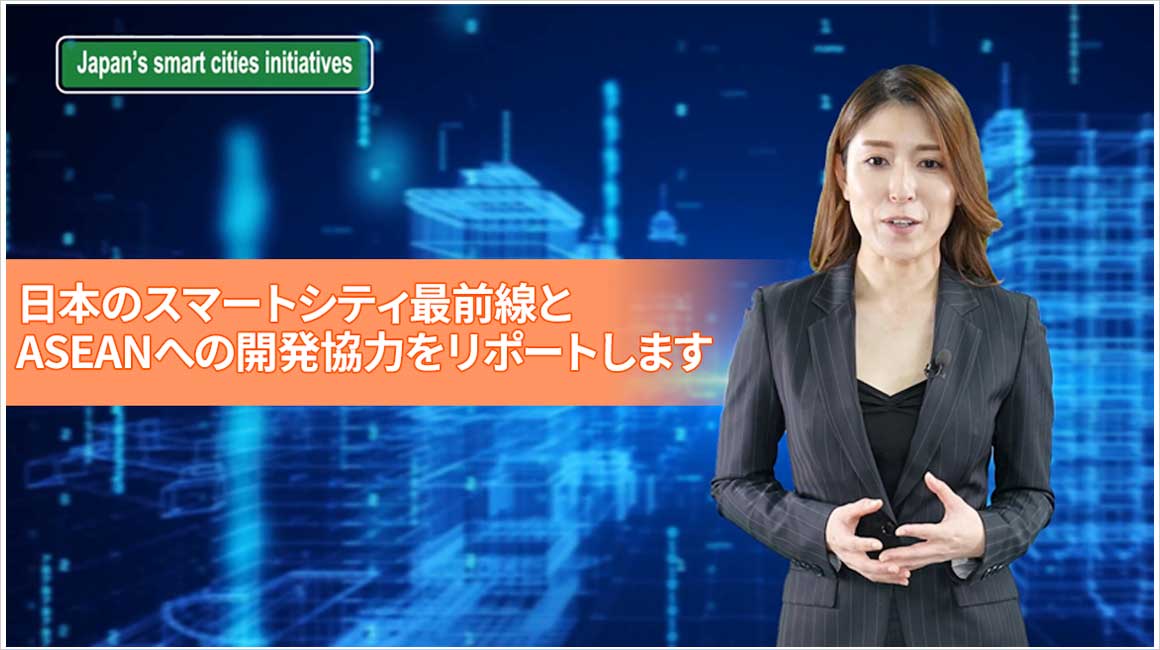 Synopsis
Urbanization problems such as traffic congestion and air pollution due to population concentration in the capitals of Southeast Asian countries are becoming more serious due to the vulnerability of large cities to disasters that are severely damaged by climate change.
Japan has solved these urbanization problems with urban development methods that have three pillars: eco-city (environmentally symbiotic city), TOD (Transit Oriented Development), and disaster-resistant town development (resilient city).
Now, Japan has started a smart city initiative through public-private-academic co-creation business model with the goal of human-centered smart city for well-being to overcome new urban problems such as declining birthrate and aging population, and regional disparities.
This program introduces the features of Japan's smart city policy today with best practices of smart cities in Japan and interviews with public-private smart city leaders and experts. In addition, through interview with the Japanese government's policy maker and government leader of ASEAN infrastructure in Singapore, the program will feature how Japan will work together with ASEAN Smart City Development.
Interviewee in the program
Mr. Isamu Takahara, Deputy Director General for Science Technology and Innovation Policy, Cabinet Office, Government of Japan
Mr. Masafumi Yokota, Deputy Minister for International Projects, Ministry of Land, Infrastructure, Transport and Tourism, Government of Japan
Mr. Shouhei Muroi, Mayor of Aizuwakamatsu, Fukushima Prefecture
Mr. Takehiko Nagumo, Executive Managing Director, Smart City Institute Japan
Mr. Lavan Thiru, Executive Director, Infrastructure Asia
Japanese Local Case Studies
Aizuwakamatsu City, Fukushima Prefecture
Kitakyushu City, Fukuoka Prefecture
Tsukuba City, Ibaraki Prefecture
Kashiwa City, Chiba Prefecture
Takamatsu City, Kagawa Prefecture
Sakai Town, Ibaraki Prefecture